If you're looking for a garage flooring solution, Husky PVC tile is a great option. I spent a lot of time trying to find the perfect solution for this garage. Ultimately, I wanted to epoxy the floor, but I didn't want to go through the trouble of removing the existing paint. I didn't want to repaint the floor because I felt the current state is a good example of what would happen over time if I repainted it. As you can see, there are tire marks, and the paint has been removed. Not to mention the floor was not prepped correctly before paint was applied.
Sponsored by Home Depot
HUSKY PVC tiles are a floating floor, so adhesives are not recommended. This was fun to tackle, it was easy to install, and the result came out amazing. Instant result! With the garage cabinets I built, the garage is really starting to come together as a tremendous multifunctional workspace.
This post contains affiliate links. These links are here for your convenience and are a way for this website to earn advertising fees. I may earn a small commission from any purchases made, but there is no extra cost to you.
Check out the full step-by-step video!
---
What You Need to Know About Husky PVC Flooring
The tiles come in two colors, gray and black, and come 6 to a pack, covering 13.95 sq. ft. For my garage, I used about 31 boxes of tiles. You will also need to buy the trim kit separately, which comes with 14 borders and 4 corner pieces covering 26 linear feet (20 sq. ft.), so you should only need 1 trim kit for the entire project. You can mix and match the colors; they'll all fit together! The tiles and trim use a simple mushroom-locking system, similar to puzzle pieces, so you only need a rubber mallet to snap the sections together. Because they are made of flexible PVC, you'll want to leave a 1/4-inch gap from each wall so the tiles can expand without buckling.

The great thing about these tiles is they're easy to install, cut, clean, and maintain. They don't require any special cleaner, just soap, and water, and they're durable. The tiles have air-dry technology on the bottom so that when moisture seeps through, it evaporates immediately. For the best results, use these tiles indoors or in an outdoor space that's covered and protected from the heat of the sun.
Preparing the Garage Floor
I started by clearing out the garage, and I removed anything that may be in the way.

This is more than likely unique to this garage, but I needed to remove the four bolts after removing the safety bollard. The hardware used here was not meant to be removed. The only option I could think of was to cut the bolts off. A hand hacksaw did the trick.

Then, I scraped the floor to remove any bumps. I used a masonry chisel to remove any concrete or stucco that could interfere with the flooring installation.

Next, I needed to fill in any holes or pits on the floor. For this, I used Bondo, but anything that dries hard would have been sufficient. After I used a sander to smooth it out.

Whenever you install flooring, it's important to make sure you have a clean floor. Throughout the installation, you may track dirt, and I think it's a good idea to clean each row as you go, so I finished up my preparation work with a good sweep or a vacuum.
Laying out the HUSKY PVC Tiles
While there are clear and simple instructions included, I went in my own direction to an extent. I will let you be the judge!

I started by measuring the garage in three locations to find the center. I measured the width of the garage starting near the garage overhead door; then I measured the middle, then the back. The width varied over that distance. I had 225in, 224.5in, and 226in from front to back. I took the middle number "225in" (18.75 ft.), close to the garage door. Then I divided it into two, which gave me the center of the garage (112 1/2 in.). I carried that line from the front of the garage to the back.
Next, I laid out a row of tiles along with the entry of the garage. Then I centered the row to the line. After that, I checked to make sure I had equal spacing on each side.
Before moving on, I connected the trim kit to the row of tile. Then I pulled and nudged the location to my liking. I have about 1-inch from the edge of the slab to the edge of the trim kit, and I checked the spacing on the sides again to make sure they were equal.

Installing the HUSKY PVC Tiles
At this point, I have the first row across the front of the garage and going down the center in a T-shape. Starting with the middle tile of the first row, I connected the tiles and carried them to the back wall. If the last tiles do not make it to the wall, leave the space for now and start a new row.


Husky directions would like for you to install the tiles from left to right. I was pretty set on working on half the garage. I wanted to remove the water heater so I could install the tiles under it. The thing is, I didn't want to kill the water supply for a long period of time. So that was my approach to focusing on one side and work towards the other.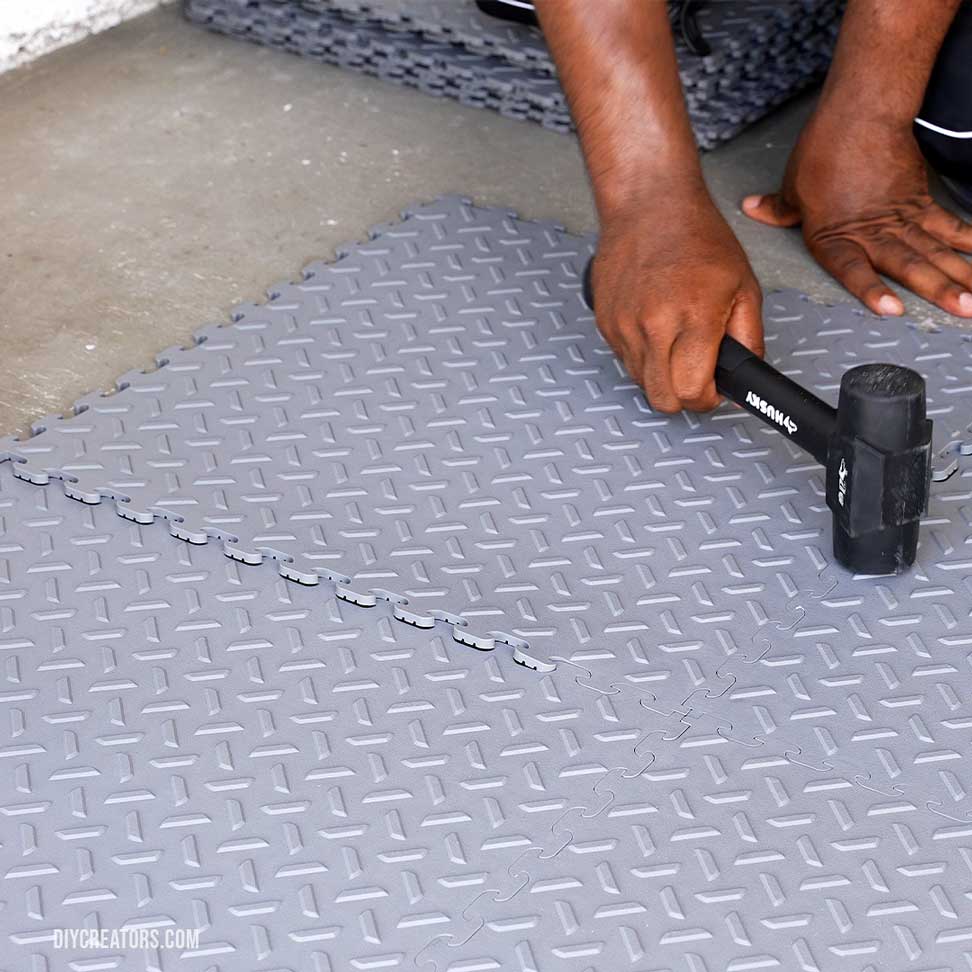 Since the tiles interlock with each other, it was hard to screw this up. I worked on two rows at a time; It felt like I saw more progress by doing it this way. I repeated that over and over until I installed all the whole tiles.
Cutting the Husky PVC Tiles to Fit
Cutting the tiles is surprisingly easy; all you need is a straight edge and a sharp utility knife.

When the walls are not straight the entire distance, you must measure each tile as you go.

To make this simple for me, I took two measurements and transferred them to the tile to be cut.

I used this method all the way around. Here is how I did it. From left to right, I measured from the deepest part of the interlocking section of the installed tile to the wall. For example, 9-1/2in. Then I subtracted 1/4in from the measurement captured. Now, I have 9-1/4in as my measurement to place on the tiles that need to be cut. This is to give the tiles room to expand.

On the tile to be cut, I laid it in the direction as it should be installed. Then measure from the edge of the tile and place a mark at 9-1/4 on the tile's left side. I repeated the same measurement procedure for the right side.


Next, I placed a straight edge on the markings and used a utility knife to cut along the straight edge. If you have a sheet of plywood cut on that, so you don't cut into your worksurface. You can also stack a couple of the cardboard packaging if needed.
Now install the tile as usual, see If you have the 1/4in gap. If that looks good repeat this all the way around.
As I mentioned earlier, I have a water heater that I didn't want to keep shut off for too long, and I didn't want to leave a gap around it where the tiles ended if you're going to do the same and are not comfortable tinkering with the water heater call a plumber. If you want to give this a shot, these steps should work. Turn off the breaker, turn off the water main, connect a water hose, open the valve, and finally open the furthest hot water faucet.
Then disconnect the hot water tank once drained. If your water lines are hard piped, you may have to get a plumber. Cutting and soldering will be required will be more involved. I lucked out here; this unit had a flexible hose. I used a piece of wood to hoist the water heater to fit the Husky PVC flooring underneath without completely disconnecting the water heater.

Addressing the Husky Garage Flooring Trim
After completing the floor installation, Husky suggests allowing the floor 48 hours to adapt to the environment.
After 48 hours, the trim looked to be settled into place and flattened out. I will keep an eye on it, but if I see any issues, I will apply liquid nail to the trim kit to keep it pinned down. With the flooring being complete, I wanted to address the wall near the bottom. Adding a baseboard will do the trick. Since this is a place that would get moister, I used a 5-1/2in PVC trim. I kept it simple; I cut the parts to fit, then I used liquid nail to adhere them to the cinder block wall.
My Overall Thoughts
Before this installation, the floor was not something to be excited bout. Now this feels like a completely new place. It's too soon for me to tell you much outside of the installation. I felt the installation was quick. It was easy, and I have no regrets. The floor looks to be durable, and I can see it holding up for a long time. Just keep sharp objects away like metal and utility knives.
From what I experienced, you do not need to be skilled to take on this project. I am confident that almost anyone can lock this out in a day's work, depending on your speed, two days tops.

I did some research and gathered what I found out about Husky PVC flooring. Check it out below. For more garage projects, check out these articles on how to build your own garage cabinets and 3 upgrades you can make to your garage door!
So here it is, the part I was excited to see! the floor did not buckle when driving a vehicle on it! I can be at peace now.
How much did this project cost?
(31) Boxes of Husky PVC Tiles $1518.38
(1) Trim kit $37.06
(3) 5in PVC Trim baseboard $88.35
(1) Liquid nail $7.27
Grand Total: $1651.56 + Tax
Questions about HUSKY PVC tiles
Where can you use Husky PVC Floor tiles?
These tiles can be used in a garage, workshop, basement, and even gym.
What's the odor like?
Unlike many rubber-type PVC materials, the odor here is slight to none.
Durability/How does it hold up?
Moisture: These tiles can be wet; they are also designed to pass air underneath. This uniques feature allows moisture to evaporate.

Outdoors: Despite the product being labeled for indoor and outdoor use, I would be cautious when used outside, especially if it will be in direct sunlight. The heat from the sun will cause manipulation of the tiles. This is not a concern for me because this will be installed in a garage.

Jacks & Stands: The tiles are very durable, but for added protection, you can use extra pieces of tile or small panels of wood to place the jacks on top of to prevent any denting in the PVC.
Can I drop tools on it?
Yes, your tools likely will not break, but it is possible that they can dent or pierce the tiles and leave small damages that way.
How do I clean it?
For dirt/debris, you can sweep and vacuum. For spills, use a mop or hand towel and mild detergent. You can use a rotary scrubber with a soft pad or nylon brushes for any heavy cleaning.
What if a tile is damaged? Should I keep a spare box?
If you have leftovers, stash them. It's good to have spare tiles on hand just in case a tile is damaged. If you got lucky and used the exact amount and extra box would not hurt. There are no signs of it, but if this product ever becomes discontinued, it will be one of those thank-you moments.
Can you mix tile colors?
Yes! The tiles come in packs of 6, and the teeth will align the same way, so they're easy to mix and match. Get creative, or keep it simple as I did!
What if I spill paint on it?
Paint, in general, does not hold up well on PVC surfaces, so the paint will usually chip or peel due to the expanding and flexible nature of the flooring. However, if it doesn't, you can use basic rubbing alcohol. Let it sit, so the paint absorbs it, and it should come off with a warm-soaked towel or sponge. To avoid any accident, cover the floor first, then paint away.
Resistance to automotive chemicals?
Because they are made from PVC, they will resist automotive chemicals, but I believe harsh chemical properties can wear away at them over time. The best thing you can do is clean up spills or leaks right away, but the great thing about these floor tiles is you can always remove a damaged tile and replace it with a new one!
I will be doing additional work in this garage, so before to follow me on social media to know what I am working on next. Youtube and Instagram